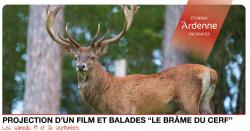 Listening to the belling of the deer. Book without delay, the number of places is limited!
Walks "listen to the call of the deer" will take place in Herbeumont on Saturday September 19th and Saturday September 26th, 2015.

Meeting at 20h, in the Hotel ''La Châtelaine" (Grand-Place Herbeumont) for a movie. Around 21:15h departure to the forest for listening the belling of the deer.

Price: € 5. Children under 12: free.

In order to optimally organize these walks, registration is required. For registration, please email to contact@herbeumont-tourisme.be or call Christine Petitjean at mobile 0476 / 24.43.63.
Latest info : The walk of September 19th is cancelled but you could attend to the walk of September 26th. Several groups will be organised for a beautiful walk "listen to the call of the deer".
"Les agents de la Division Nature et Forêt nous font savoir qu'il leur sera impossible de faire la balade du brame le 19 septembre. Les personnes déjà inscrites pour cette date du 19 septembre ont la possibilité de s'inscrire sur celle du 26 septembre (prévue aux mêmes heures et même endroit). Ce jour-là, il y aura plusieurs agents de la DNF pour les accompagner dans les bois. Plusieurs groupes seront mis sur pied pour vous assurer une belle balade. Encore mille excuses pour ce contretemps tout-à-fait indépendant de la volonté du Syndicat d'Initiative d'Herbeumont et merci pour votre compréhension."