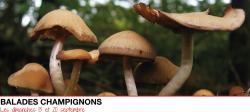 Discover mushrooms in September with experienced mycologists in Herbeumont including: initiation, hiking, analysis and tasting.
Walks "discovering mushrooms" will take place on Sunday, September 13th and Sunday, September 20th, 2015.

We meet at 9:30h am at the tourists office, rue des combattants 7, 6887 in Herbeumont for a walk of +/- 2h30. Around noon, back to the hotel "La Châtelaine" for analysis of mushroom and soup tasting.

Price: € 5. Children under 12: free.

In order to optimally organize these walks, registration is required. For registration, please email to contact@herbeumont-tourisme.be or call Christine Petitjean at mobile 0476 / 24.43.63.